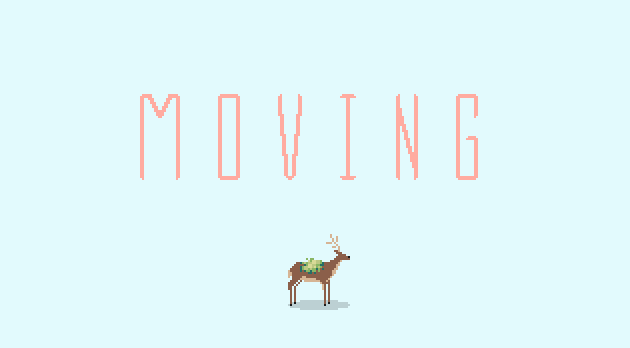 MOVING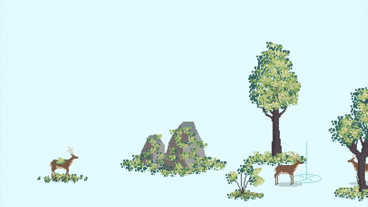 In this game, the player manipulates plants.
Plants can parasitize deer.
By consuming the deer's body and shooting plants' bullets, you can parasitize further deer or fight monkey.
The purpose of this game is not to save the deer nor to annihilate the monkey. It is to move plants.
Play time is about 5 minutes.

Controls
- AD keys or Arrow keys for movement -
- Plants' bullets land on the clicked point. -
Credits
pickles_section - Twitter
---------------------------------------------------------------------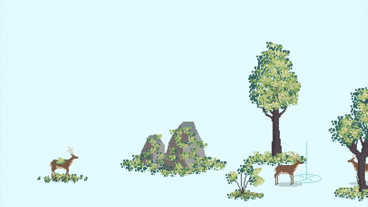 プレイヤーは、鹿に寄生する植物を操作します。
植物は鹿の身体を消費して植物弾を放つことができ、
植物弾をつかって更なる鹿に寄生し群れを増やしたり、
武装した猿と戦うことができます。
ゲームの目的は鹿を生き延びさせることでも、猿を殲滅させることでもなく、
植物を移動させることです。
プレイ時間は約5分です。
操作方法
- ADキー、もしくは矢印キーで寄生した鹿を動かします -
- クリックしたポイントに、植物弾が着弾します -
制作
漬物区画 - Twitter
Download
Click download now to get access to the following files:
Comments
Log in with itch.io to leave a comment.
What a cool game. It was so peaceful and relaxing, yet violent!
Beautiful game! It's just my interpretation, but it felt like the game described our relationship with nature, how we destroy it's balance.
Really cool idea for a game! Really cool art and music even though the game itself was very evil lol those poor deer...
I loved this! It was a beautiful game and very easy to play. I liked how everything tied itself together at the end. Nearly got me there :)
Wonderfully put together. I enjoyed the simple story, and how it all came together in the end - in this sort of time-loop. The art style is beautiful, and I liked the moderate controls to join the two together. Overall, I would say this game is very well done, and I loved this game. I recommend anyone who is to come across this game.. play it.
A very beautiful game, with an interesting look at nature and how it can work... I get reminded of some aspects of the show Mushi-shi, in terms of how it's adressed and the use of parasitic plants? Not shown as necessarily a scary or bad thing but just... hey, here's how nature works, and it has its own sort of beauty to it. It's very thoughtful, and I enjoyed it a lot!

I made a video of it (3:22) and I liked it. It is pretty good-looking, the colors are just mixed very well, and the gaming art is entertaining! With the music and everything, it is really smooth.
The styling of the game is so pretty and with the soundtrack to accompany the play is just wonderful and soothing, keep up the good work ;))
Hello again, i review games that I like on Itch each week and included your game in this weeks episode, I hope you don't mind, thanks again!
Beautiful game, i love the idea behind it and the styling of the game, music goes perfectly too. Thanks!
Hello I am Joshua W. from the Squirrel Reviews. I was hoping to review this game for our new Indie game Spotlight. I love your game and would like to ask you to send me some in game screen shots so I could include them in the review.
Thanks,
P.S. my email is admin@thesquirrelreviews.com
Joshua W.